It is easier to forgive an enemy than to forgive a friend. Better to have an enemy who slaps you in the face than a friend who stabs you in the back. You don't expect betrayal from a friend. But for there to be betrayal there must be trust. The saddest thing about betrayal is it never comes from an enemy. Because sometimes the people you'd take a bullet for are the ones behind the trigger.
Have you ever been betrayed? Maybe a friend told one of your secrets. Or a child broke a trust and your heart. Or a spouse had an affair. It hurts, real deep. You kind of know how Jesus felt when He was betrayed by one of his most trusted disciples, Judas. His betrayal is very famous. He sold Jesus for 30 pieces of silver. He betrayed Him with a kiss. His betrayal led to the most famous murder in history – the crucifixion of Jesus, God's Son.
But what was the motivation behind Judas' betrayal? Why did he do this? I think we can find at least 3 motivations behind his betrayal? The problem is I discover these same motivations in some of my actions. I'm sure you can too. So, can you see Judas in the mirror?
1- MONEY
The Gospel authors tell us that this was the primary reason Judas betrayed Jesus. It was for the money…
Matthew 26:15 – And said unto them, What will ye give me, and I will deliver him unto you? And they covenanted with him for thirty pieces of silver.
Judas negotiated a deal, a business arrangement – seeking economic advantage, by getting the best price that he could manage, and so for 30 pieces of silver he sold his relationship with Jesus. It seems pretty clear, he did it for the money.
A corrupt love of money is a powerful motivator. Just think of what people driven by greed will do. Consider the impact of money on our political system. Business leaders go along with unethical decisions driven by greed. Consider how once close and caring family members will get in battles over disputed inheritances. Or as if a divorce weren't  brutal enough, the greed when dividing the assets. People will betray country, business partners, family and friends for money. Our prisons are packed by those driven by love of money.
Greed and the love of money can bring out the very worst in people. It brought out the worst in Judas, to betray his Lord, and that ought to get our attention and it ought to concern us very much. Our material things in this life, will either help or hinder, enrich or destroy — and our attitude toward money and possessions most clearly reflects our relationship with God.
2- PRIDE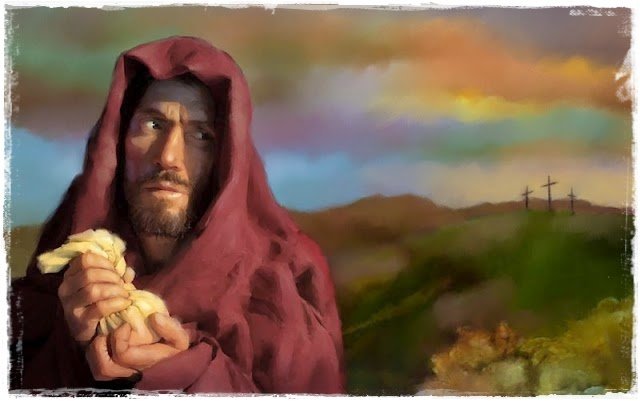 It could be that Judas thought Jesus was heading down a wrong path. If Judas had followed Jesus, expecting Him to overthrow Roman tyranny, perhaps by having Jesus arrested, he hoped to force Jesus into a rebellion against Rome.
There is nothing that tells us that this was his motivation. However, there is a hint. After the betrayal and arrest, Jesus offered no resistance. Judas returned to the Jewish leaders, brought back the 30 pieces of silver, and said, "I have sinned in that I have betrayed the innocent blood." Then, in guilt, hung himself. His plan didn't work.
For sure, Jesus was not doing what Judas expected. Jesus could not and would not be who Judas wanted Him to be. So he did it his way. Countless people today do the same thing. How often do we try to tell God how to do things? When life doesn't make sense, we question the overall plan of God for our life. When faced with God's will and our will, we choose selfishly. Our pride thinks we know best, even in relation to God. That's what Judas thought.
3- SATAN
In Luke's account of this moment tells us Satan himself entered Judas.
Luke 22: 3 – Then entered Satan into Judas surnamed Iscariot, being of the number of the twelve.
Satan does not involve himself with every temptation and spiritual battle. He did tempt Eve in the garden and Jesus in the wilderness. Here he enters Judas for the purpose of betraying Jesus. So, one of the motives for betraying Jesus was Satanic.
This does not assume that Judas became the innocent victim of a Satanic takeover. Judas could have changed his mind. But he reached the point where he couldn't turn back. Satan took over. And after he committed his betrayal, he regretted his decision. But it was too late.
Whether it is Satanic, demonic or our own sinful nature, we often go down a path we know we should exit. We know it's not right, but often we think we can handle it. But we often regret the consequences of our actions. You can't play with sin and not have to pay the consequences.