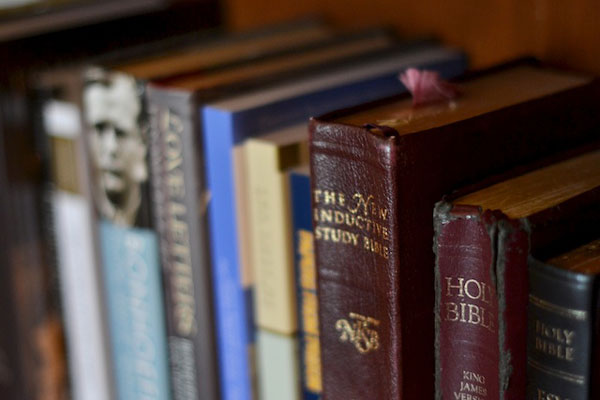 I love to read. My mom was a school teacher so she started me early. My first book was 'Dick & Jane'. "See Spot run."
I remember my grandmother bought me a whole box of books from Scholastic when I was in middle school. That's when I first read, 'Mr. Popper's Penguins' and 'The Phantom Tollbooth.' Then I progressed to more adventurous books like 'The Phantom' and 'Flash Gordon.'
But it wasn't until I was in college and studied for the ministry that I found the value of reading to my Christian life. I read not only Christian books but have started to read the Classics (like Huckleberry Finn & Don Quixote). In the last 5 years I have read over 200 books.
I would like to recommend 5 books that I think every Christian should read at least once.
1. The Bible
The Bible is an obvious choice but many Christians have never read it through. It is a long book. For many, it is the longest book they have ever read. But nothing that I know of will help you strengthen your Christian life than reading the whole Bible straight through.
It only takes about 15 minutes a day to read the Bible in a year. However, for several years I have read the Bible through every 3 months. It takes me about 30 minutes every day (the length of an average sitcom on TV). If you are looking some help to read the Bible through I encourage you to visit Walk Thru the Bible or YouVersion.
2. The Purpose Driven Life, by Rick Warren
This book made a big splash in Christianity in 2002. It has been translated into more languages than any other book, besides the Bible. It has been called 'a blueprint for Christian living in the 21st century.' It was also accompanied by a popular small group and church-wide campaign called 40 Days of Purpose.
This book is simply a devotional book divided into 40 short chapters that deal with why you are on the earth. It is full of Bible verses and simple, practical help to walk the Christian life. It has been so valuable to me, I read (or listen) to it every January for 40 days. Billy Graham described the book as one that would "guide you to greatness—through living the Great Commandment and the Great Commission of Jesus."
3. The Knowledge of the Holy, by A. W. Tozer
I first read this short book in Bible college and have read it about 5-6 times since. It is simply a book about God. Though Tozer admits it is impossible to completely describe God, we can know Him better by understanding what He has told us about Himself in the Bible.
When describing the love of God, this is what Tozer says… "From God's other known attributes we may learn much about His love. We can know, for instance, that because God is self-existent, His love had no beginning; because He is eternal, His love can have no end; because He is infinite, it has no limit; because He is holy, it is the quintessence of all spotless purity; because He is immense, His love is an incomprehensibly vast, bottomless, scoreless sea before which we kneel in joyful silence and from which the loftiest eloquence retreats confused and abashed…. the love of God is one of the great realities of the univers, a pillar upon which the hope of the world rests. But it is a personal, intimate thing, too. God does not love populations, He loves people. He loves not masses, but men. He loves us all with a mighty love that has no beginning and can have no end."
4. The Normal Christian Life, by Watchman Nee
This book was suggested by my pastor, Marty Lewis, when I first was studying for the ministry. I read it and thought, 'No big deal.' Then I read it about 10 years later and thought, 'Wow! I wish I'd known all this stuff earlier.' It was a book I had to grow into.
You may not get it yet. But The Normal Christian Life helps you discover the struggles of the Christian life. It is an exposition of the first few chapters of Romans and explains concepts like the blood and cross of Christ. It stresses that God's grace enables and challenges Christians to allow the life of Christ to live through them. It really helped me.
5. Desiring God, by John Piper
Outside the Bible, this is the longest book on my list, but it's a good one. We all pursue pleasure. And John Piper describes the greatest pleasure is to glorify God. Scripture reveals that the great business of life is to glorify God by enjoying Him forever.
That's my list. I asked some of my pastor friends to share their favorites and here are some of their suggestions: The Strategy of Satan (Wiersbe), Safely Home (Alcorn), Fresh Wind, Fresh Fire (Cymbala), Where is God When it Hurts? (Yancey), When Bad Things Happen to God's People (Wiersbe). Power Through Prayer (Bounds). Many more were suggested, but this gives you a start.
Are any of these on your top 5? Or do you have one to add?