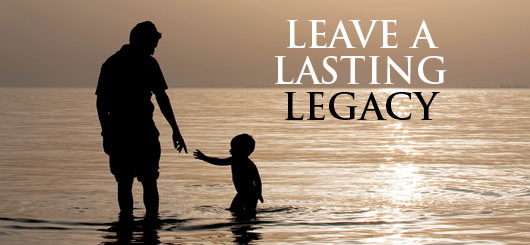 Each and every one of else has an inner desire to go beyond success to significance. We want our lives to mean something and make a difference.
Christians are free to live significant lives because of what Jesus Christ did on the cross. We no longer have to worry about working off our sins, or pleasing God. With God's love and forgiveness we are empowered to make a mark on life.
We are free to leave a legacy in life. Two of the disciples, James & John, voiced what many want to do with their life. They wanted to live their life in such a way that they would be rewarded with seats right beside Jesus in His kingdom. Jesus asked them if they were willing to pay the price. They acknowledged they were willing. But Jesus explained that leaving a legacy is not based on what we do for ourselves, but what we do for others.
Jesus summarized a life well-lived with these words: "… whosoever will be great among you, shall be your minister.  And whosoever of you will be the chiefest, shall be servant of all.  For even the Son of man came not to be ministered unto, but to minister, and to give his life a ransom for many." (Mark 10:43-45).
To leave a legacy, we have a choice to make – What kind of legacy do we want to leave behind us?
STATUS VS. SERVICE
James and John saw Jesus as a revolutionary. Jesus talked about starting God's kingdom on earth. James and John wanted a piece of the action. They wanted to be given positions of power and prestige.
It is easy for us to identify with James and John. We know the allure of prominence at work or in the community. Even if we can't get the position of respect, we still want respect from people. We want people to think we are somebody.  It makes us feel important. But is not the path to leaving a legacy. Only when we serve others will we find a secure legacy. Promoting yourself is self-defeating. But encouraging and serving others will guarantee a long, lasting legacy.
PRODUCTION VS. PEOPLE
We are a society that focuses on what people do and what people have done. When we focus our time and energy on doing things and accomplishing great feats, we may build a great resume and wonderful reputation, but we are not leaving a legacy.
If we are to leave a legacy, we need to leave it in the lives of people. It is easy to forget, neglect, and ignore people in the pursuit of our goals and dreams. Accomplishments are wonderful, but not at the expense of the people you pass over to achieve them. Your successful deeds will never thank you for all the time you spent building them. But people will always remember the kindness, encouragement, and time you invested in their life.
ME VS. YOU
For most of us, it's all about "Me!" My problems, my decisions, my family, my job, my success, my life. But Jesus has left us a legacy of a life that was not focused on Himself. Jesus was focused on us. It wasn't about Him. It was about us.
A life that is focused on itself will soon be forgotten. But a life lived for others, will last a long, long time.
Don't write your name in sand, waves will wash it away. Don't write your name in the sky, wind may blow it away. Write your name in the hearts of people you touch. That's where it will stay.
The candle is a parable of life. It lights others and in the process consumes itself. When our lives become candles, we leave a legacy. Who are the people who have touched your lives? Who left their legacy burning bright within you? It is a great legacy, because it not only burns in your life, but you have passed it on to the lives of those around you. It has become a blazing fire. As we light these candles, let us reflect on the legacy that they teach us. True legacies are left in the lives of people—people in whom we have invested ourselves, and given ourselves, and shared our faith.
You can learn more about living for others in some of my other articles: Thank you for being a friend, How to be a great person, To serve or be served.