Can we really find the Gospel in a fictional story like Star Wars? Well, just as Jesus used parables, I have found many fictional stories and characters help me understand spiritual truths (See The Gospel According to Superman).
J. R. R. Tolkien, author of The Lord of the rings, has said, "We come from God… (so) inevitably the myths woven by us, though they contain error, reflect a splintered fragment of the true light, the eternal truth that is with God. Myths may be misguided, but they steer however shakily toward the true harbor"
So, since the latest Star Wars episode is in theaters, I thought I'd share a few spiritual insights that earlier Star Wars episodes have illustrated. You might agree or disagree, but I think it worth discussing.
Before we get into some of the similarities, let me state that 'The Force' of Star Wars is in no way God. 'The Force' has a dark side and a light side. 'The Force' is very impersonal. But 1 John 1:5 states, "God is light; in Him there is no darkness." In other words, God is good, and only God can be totally good with no evil. There are many themes that illustrate the Christian life, but there is nothing on this earth that can compare with the love, holiness, and power of God. You won't find God in Star Wars, but you may find something to get you closer to Him.
"Help me Obi-Wan Kenobi. You're my only hope." From 'Episode IV: A New Hope'
This statement ends Princess Leia's message delivered to Obi-Wan and Luke Skywalker by R2D2. Every action in the beginning of this movie is motivated by the need to get the message to those who needed to hear it.
We have been given a far greater message. Jesus, God's Son, entered the world as a baby and died on the cross as our substitute for the penalty of our sins. He is our only hope. It is imperative that this message gets to the people who need to hear it – everybody.
"You must learn the ways of the force if you're to come with me to Alderaan." From 'Episode IV: A New Hope'
Ben Kenobi relates these words to Luke Skywalker and begins his transformation from a farm boy to a warrior. For this to take place he must learn the ways of the Force.
As a Christian, we undergo a transformation. It begins when we receive Jesus as our Lord and Savior. His inner presence allows the Holy Spirit to change us from the inside out as we study God's Word.
"May the Force be with you." From 'Episode IV: A New Hope'
This may be the most famous saying in the Star Wars saga. It is sort of a blessing pronounced several times in the end of this episode. It represents the hope that the powerful energy field that surrounds them will protect and guide them.
As a Christian, you have God's blessing. It is not a blessing for selfish ambitions. But a blessing to be a blessing to others. Numbers 6:24-26 reminds us, "The Lord bless you and keep you; the Lord make his face shine upon you, and be gracious to you; the Lord lift up his countenance upon you, and give you peace."
"It is a dark time for the Rebellion… Help me Obi-Wan Kenobi." From 'Episode V: The Empire Strikes Back'
This second installment of the Star Wars saga begins with a cosmic revolt. Everywhere is danger. Bounty hunters, missing citizens, ice monsters, deadly cold weather, and the unstoppable power of the Empire led by the evil Darth Vader.
As a Christian, we often face dark times in our life. Financial pitfalls, illnesses, death, and relationship struggles can be overwhelming. But we have something that can help us through these dark seasons. God has promised that all who trust Him will receive strength to get through any trial. As we cry out to God, He will give us peace through and victory over all our tribulations.
"How am I to know the good side from the bad?" From 'Episode V: The Empire Strikes Back'
Luke and Yoda are in a discussion about the Force. Luke doesn't understand how to discern the good from the bad. Yoda replies, "You will know when you are calm, at peace." Luke must bring himself to a state of peace to discern the good.
As a Christian, we must surrender to a good God and rest in Him if we are to have His peace. Though Luke has to find his peace through concentration, we surrender to discover our peace. The Jedi way is far more difficult.
"I am your father." From 'Episode V: The Empire Strikes Back'
In a surprise of character identities, Darth Vader reveals that he is Luke Skywalker's father. Luke cannot believe it. Impossible! Rather than accept his statement, he chooses death.
As Luke rejected his father, we often reject our father. For one, many reject that their sin relates them to Satan, their spiritual father . And yet, many will reject the offer of having God as their eternal Father, choosing to suffer eternal death rather than surrender to a loving Father.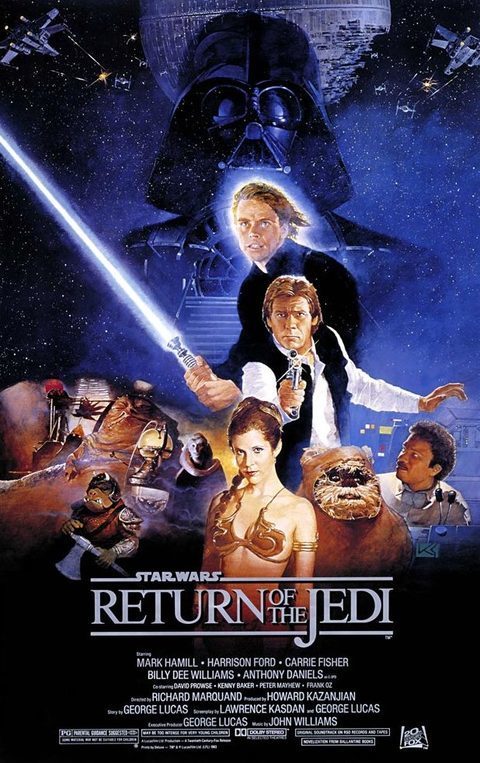 "There's still good in him." From 'Episode V: Return of the Jedi'
Luke Skywalker thought the best of his father, Darth Vader. Ben Kenobi felt, "He's more machine now than man, twisted and evil." Not worth saving and must be destroyed.
God looks at us the way Luke looks at Darth Vader – we are worth redeeming. When we realize the supreme price Jesus paid for our salvation, there is nobody beyond the reach of His love and mercy.
"His compassion for you will be his undoing." From 'Episode V: Return of the Jedi'
Since Luke honestly believes his father, Darth Vader, has some good in him, the Emperor tells Vader that this will be his trap. Luke is willing to endure torture because he loves his father.
Jesus endured great pain and agony because of His love for His Father and for us. "Looking unto Jesus the author and finisher of our faith; who for the joy that was set before him endured the cross, despising the shame, and is set down at the right hand of the throne of God" (Hebrews 12:2).
If you think of other similarities in other episodes, please share them with me…
You can check out some other spiritual truths from movies in my articles: The Gospel and the Movies.