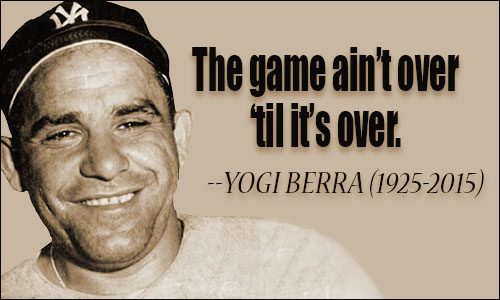 Yogi Berra died yesterday (Sept. 22, 2015) at the age of 90. Yogi anchored the greatest dynasty in baseball history. He played on ten world championship teams, won the American League MVP award three times, and was inducted into the Baseball Hall of Fame in 1972. But he is probably most famous for his off-the-field comments.
I have a book in my library written by Yogi himself about some of his funniest quotes. So, in his honor and memory, I have written some of my favorites and the situation that prompted them.
"I really didn't say everything I said."
He said this when someone asked him about quotes that he didn't think he said.
"Nobody goes there anymore. It's too crowded."
Talking to Stan Musial and Joe Garagiola in 1959 about Ruggeri's restaurant in his old neighborhood in St. Louis.
"It's deja vu all over again."
His comment after Mickey Mantle and Roger Maris hit back-to-back home runs for the umpteenth time.
"We made too many wrong mistakes."
Comment after the 1960 World series between the Yankees and Pirates. It was a seven-game series that ended when Bill Mazeroski hit a home run over his head.
"It was hard to have a conversation with anyone, there were too many people talking."
Following a dinner at the White House by invitation of President Gerald Ford.
"When you come to a fork in the road, take it."
Spoken when giving Joe Garagiola directions from New York to his house in Montclair.
"We're lost, but we're making good time!"
Comment on his way to the Hall of Fame in Cooperstown in 1972. He got lost.
"If I didn't wake up I'd still be sleeping."
Spoken after his alarm clock didn't go off.
"It gets late early out there."
Comment made about playing left field in Yankee Stadium during late autumn. The shadows give you a tough time to see the ball.
"90% of the game is half mental."
One of his better coaching tips. Said many times.
"Always go to other people's funerals, otherwise they won't go to yours."
Spoken to Mickey Mantle about all the funerals they attended together one year.
"Congratulations. I knew the record would stand until it was broken."
Telegram sent to Johnny Bench after he broke his record for most home runs by a catcher.
"You can observe a lot by watching."
Yelled as manager of the Yankees in 1964 when the players weren't paying attention to the game.
"You've got to be careful if you don't know where you're going 'cause you might not get there!"
Yogi's wisdom on goal setting.
"We have a good time together, even when we're not together."
Slipped out of his mouth when someone asked him about his beautiful wife.
"It ain't over 'till it's over!"
His answer to why the New York Mets were 9 games out of first place in July 1973. They went on to win the division.
I love Yogi Berra's look on life. Which one is your favorite?