Autumn is my favorite time of year.  I think it started because my birthday is in the Fall (Oct. 21).  But there are many reasons why I like the season of Autumn.  Here are a few of them.  Maybe you can add a few of your own.
Autumn is a time to reflect on the joys of summer, when the family had a wonderful vacation and was closer than at any time of the year. Now we separate to go our several ways with our many activities and interests but with memories to keep us together until we pack next year for an ever greater vacation… Autumn.
Autumn is a season of trees, when they, like Joseph of old, put on their coats of many colors and thrill the heart of each observer… Autumn.
Autumn is a season of leaves, when nature dots each leaf with a different color and blends into a beautiful painting that no artist can capture. It is a season of stacks of piles of leaves and the smell of their burning… Autumn.
Autumn is a season of melancholy, when mothers who had a dreaded summer and the bother of the children find themselves missing Johnny and Susie in the loneliness of a quiet living room after the school bus has snatched them away… Autumn.
Autumn is the season of the sound of footballs and the encouragement of fans and cheerleaders. It is a time when every team begins undefeated and has dreams of the championship – Go Michigan! Go Spartans!  Go Buckeyes!… Autumn.
Autumn is a time of tears, when moms and dads say good-bye to college students who only last year sere in kindergarten. It is a time of wondering where the years have gone, a time of bewilderment as we try to remember just a little of the brief period between kindergarten and college… Autumn.
Autumn is a time of weeping. Mom and dad have wondered for days if little Susie would cry when she went off to school for her first day.  Mom has prepared little Susie for this occasion and has reminded her to be a good girl and not to cry.  Susie, however, forgot to prepare Mom; and as Susie goes off to school skipping and laughing, it is mother who sits down and cries, as Dad is bothered with a recurring sinus condition (or so he says)… Autumn.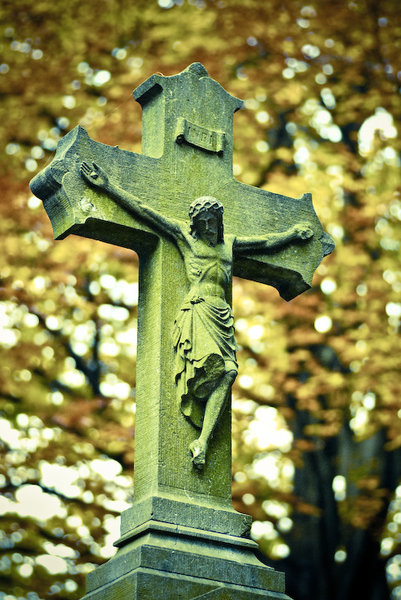 But in it all, Autumn should be a time of dedication. The turning of the grass, the dropping of the flower seed, the dying of the leaves, the fading of the summer all remind of the 'corn of wheat' that fell in the ground two thousand years ago at Calvary. It reminds us that Jesus had to die that we might live.
As sure as Autumn reminds us of His death, the hope of Spring reminds us of His resurrection; for these same trees shall bloom again, the same grass shall grow again, these dying flowers shall blossom again, and our Savior rose again!
Autumn, finally, is a time to die. It is a time for us with the flowers, trees, grass, and nature to die. We should die to self, die to our own pleasures, and live for Christ and others.
We look back in retrospect at the Summer and brace ourselves for the chilling winds of winter. Let us enjoy the most beautiful season of them all – the season, death – for in death nature is at its prettiest, Jesus reached His glory, and we become our best for Him.
What do you like best about Autumn?
Are you ready for Autumn? 
You can read my other articles: I love October, Can a Christian Celebrate Halloween?, What your Pastor Really Wants for Pastor Appreciation.